Many of us around the country are really starting to feel lockdown fatigue. We've tried new hobbies, had way too many zoom calls with friends (or work colleagues!) and watched an abundance of shows on every streaming platform available. With school holidays approaching and the likelihood that many of us will need to stay at home for a little longer, here are some fun and engaging (we promise!) activities for you to try. If you're one of the lucky states not in lockdown, you can still enjoy these fun activities.
Get creative!
Grow your own edibles
Spring has sprung and this is the perfect time to create your own veggie garden. It's the ideal time for growing many varieties of fruit and vegetables and to encourage kids to value, learn and engage with their natural environment. Visit Sustainable Gardening Australia to learn how to do just that.
Discover your inner artist
Suitable for all skill levels, get your friends and family together for a virtual painting session! All you'll need is acrylic paints, a few different sized paint brushes, canvas or paper suitable for acrylic paints, your favourite drink (alcoholic or non-alcoholic if under 18) and a device to connect to a video conferencing platform like Zoom or Google Meet. You can click and collect your supplies from any of the big department stores like Kmart, Big W, Target or Officeworks. Once your goodies arrive, it's time to pick your painting tutorial. Visit this YouTube page and choose your favourite painting, set up the virtual meeting, share your screen with your fellow artists and begin the tutorial!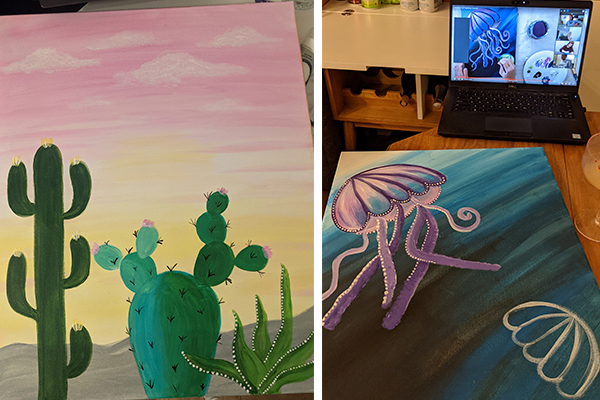 Become a LEGO Master
Have you got some old LEGO lying around gathering dust? If so, now is the perfect time to dust it off and tackle these boredom buster activities with LEGO Land Discovery Centre. With a new challenge every day throughout school holidays you'll be a Lego master in no time.
Teach yourself and your kids to code
Teach your kids or students how to code by taking an affordable course like these ones on Udemy: Teach Your Kids to Code or Programming for Kids. Code Academy also has some great free lessons and resources. You can even take the free quiz to discover your inner coding self and what career in coding best suits your personality.
Write a piece of history
Practice your writing skills by keeping a lockdown journal. Write in your journal every single day so it becomes a daily ritual, just like brushing your teeth and showering. Writing regularly is the best way to improve and keeping a lockdown journal will be interesting to look back on in the future. Write about what is happening around you, how you're feeling and what you're grateful for. You can also give yourself a daily topic to write about, like your pets, a family member or something interesting you see on your daily walk through the neighbourhood.
---
Experiment in the kitchen
Discover nutritional guides all over the world
Pick Your Plate! A Global Guide to Nutrition is an educational nutrition game that will help teach students about building healthy meals while using nutritional guidelines from countries around the world! Take it further: Select a recipe from your favourite country and cook a meal for your family. Does it meet the nutritional requirements of the country you've chosen?
Get resourceful in the kitchen
Choose a delicious recipe to make. This dish or dessert can be a family favourite or something you've never tried before. Your goal is to gather the ingredients without going to the supermarket for any missing items. Use The New York Times cooking substitution guide to fill in what you're missing. Or, if you already have everything, make a substitution for one or two items.
Make your snacks sustainable
Save money and the environment by preparing your own healthy snacks to keep the hunger at bay! From savoury muffins to energy bars, we've got you covered in our simple sustainable snack ideas blog post.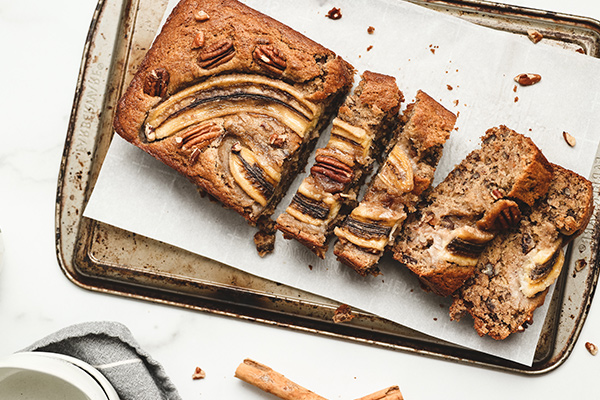 ---
Feed your wanderlust from home
Write a travel bucket list
Have you always thought about making a bucket list but never got around to actually writing it? There is no time like the present! Find your dream destinations by reading blogs, looking on Pinterest, searching hashtags on Instagram or travel videos on TikTok. Once you create the list, you'll now have something tangible to start ticking off. You can get the whole family involved — it's a great geography lesson for kids. Some other great sites for inspiration include Lonely Planet, Atlas Obscura, UNESCO or check out the Aussie Kids Bucket List.
Create your very own dream trip
While we can't travel very far right now, there will soon come a time when we can go to all the places we've been dreaming about. Now is a great time to start planning so as soon as borders open, you'll be ready to start booking. Use our international or domestic itineraries to help map out your journey. Explore our tours.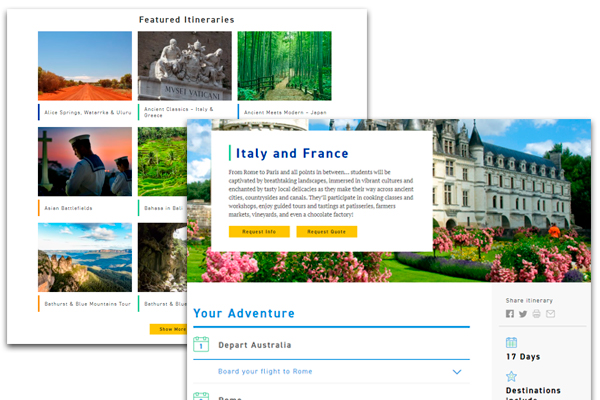 Learn a language
Pick a country at the top of your bucket list and start learning the native language with an app like Duolingo. Set aside 15 minutes per day to practice and make it part of your daily routine.
Get lost in the pages
Be transported to another world and inspire your next travel adventure with these travel-related reads. These books will be sure to take you on a journey through the most unique and diverse landscapes the world has to offer; the people and friendships you form along the way; and the transformations that occur when you discover new places and cultures.
Reminisce on travel adventures
For some of us, sorting through travel photos and printing them out is one of those things we never get around to doing. You may have some extra time on your hands to do this in lockdown and there are various websites available that offer a printing and delivery service like Photobox and Officeworks. Take it further: Create a scrapbook of your travel adventures or turn your photos into artwork for the home by printing on a larger scale and framing it.
We hope this list has inspired you to develop a new skill, have some fun at home with your family and bake some goodies! If you get around to doing one of the activities above, share it with us on Facebook or Instagram @worldstridesaustralia