Experiencing the authentic cuisine of a foreign destination is one of the best ways to really get to know the local culture. Every dish has a story and it's always so fascinating to learn the origins of a traditional meal and how it's passed down from one generation to the next.
We're all really missing visiting international destinations and it won't be long until we can experience them again soon. In the meantime, learning how to cook traditional mouth-watering dishes from countries all over the world is one of the ways to experience it now – and get you excited for your next international trip. We hope you enjoy these eight culinary adventures!
Italy – Minestrone soup
There's a great story about how Minestrone originated in the 2nd century BC. To summarise, Rome conquered Italy which saw a surge in economic growth and new vegetables entered the market. Italians got creative in the kitchen with their newfound vegetables, and the Minestrone craze began. Also known as the 'poor man's soup', lower-class Italians would throw in their leftovers to create this delicious dish. Here's a Minestrone Soup recipe to try at home.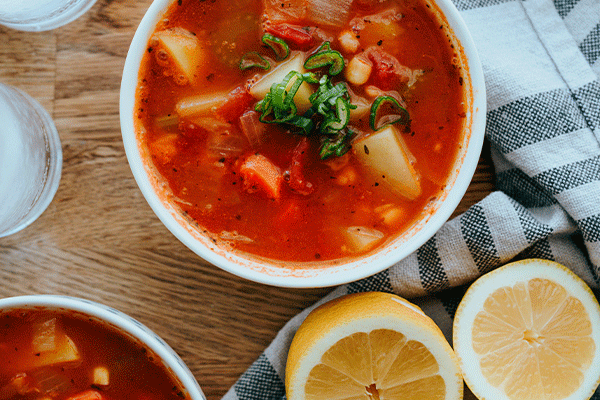 France – Crepes
There's a French urban legend about how the crepe came to be. Back in the 13th century a maid in Brittany accidentally dripped her buckwheat porridge on the cooktop resulting in a crisp thin pancake – and just like that the crepe was born! People all over the world now enjoy crepes for breakfast, lunch, dinner or dessert – it really ticks all the boxes, savoury or sweet. All you need is some eggs, flour of your choice (it was traditionally made with buckwheat flour), milk, honey, salt and butter plus your favourite toppings. Try this recipe.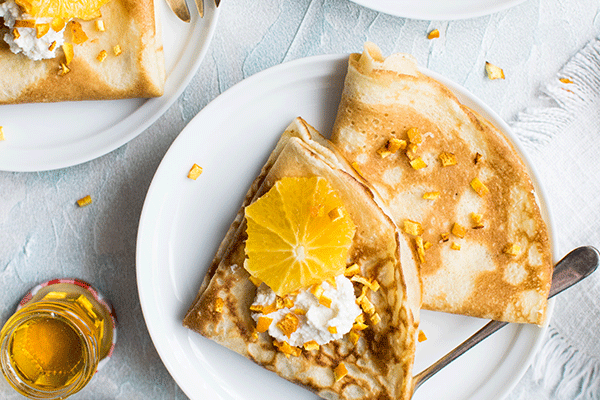 Morocco – Tagine
Tagine is a North African stew and typically includes spiced meat and vegetables prepared by slow cooking in a type of cookware traditionally made of clay or ceramic with a lid that looks like a cone or dome. This vessel is also called a Tagine, but you can also use a pot on the stove or in the oven. The tagine stew is cooked in the vessel and often includes various spices like turmeric, cinnamon, saffron, ginger and cumin. This is a great vegetarian tagine – adding meat is optional and easy.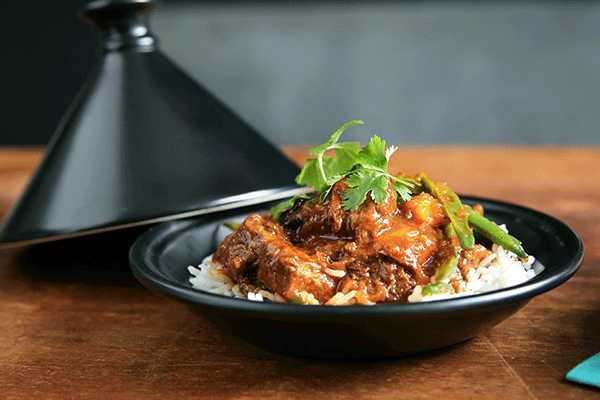 Spain – Paella
When we think of Spanish food, Paella is probably the dish that springs to mind for most of us. This iconic dish originated in Valencia but is eaten all over Spain and is something most visitors search for as soon they arrive. Here is an authentic paella recipe with chicken and seafood.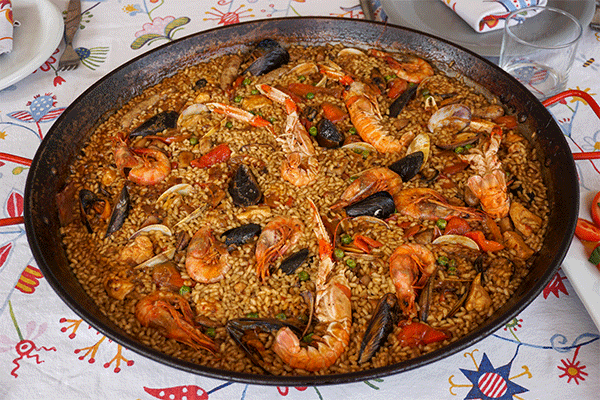 India – Butter Chicken
Butter chicken emerged in Delhi in the 1950s at a restaurant in the city that served many traditional tandoori recipes. The chef mixed leftover marinade juices with butter and tomato and stewed the tandoor-cooked chicken in it – creating this internationally-loved dish by accident. Today, this dish is enjoyed all over the world and flavours have been adapted and perfected over time. Here is a delicious recipe to try at home.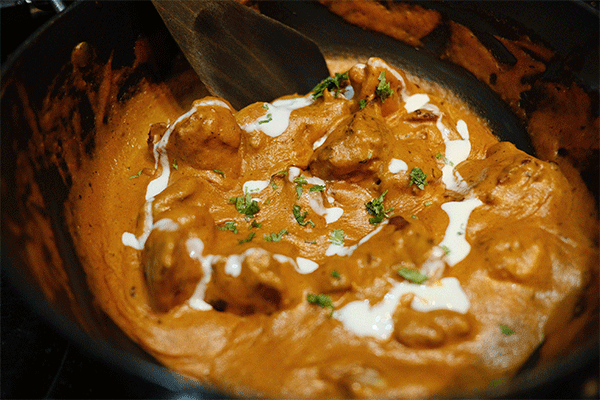 Vietnam – Bahn mi
The famous Bahn mi emerged after the fall of European Colonialism in 1954. Until then the Vietnamese ate bread like the French – baguettes with a platter of cold cuts, butter and cheese. Once the French left, Vietnamese in the south were free to modify French dishes to include local ingredients and transformed into a dish that everyone could afford. Now it's enjoyed all over the world and is such an easy dish to make at home. Try this grilled pork Bahn Mi for yourself.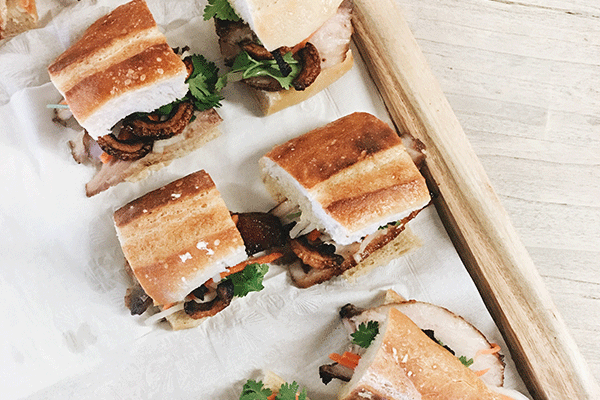 Mexico – Quesadillas
The Quesadilla is a Mexican delight! The word quesadilla actually means a small cheesy thing in Spanish – when the colonists arrived in Mexico in the 16th century, the locals were eating tortillas with a variety of fillings and condiments and the Spanish started adding cheese to them. Today, the list of flavours and ingredients used are endless! From leftover meat and seafood to mushrooms, fresh vegetables and chilli, choose your own adventure – but don't forget to add your sides! Salsa, sour cream, and guacamole are a must. Here are some great recipes to try at home.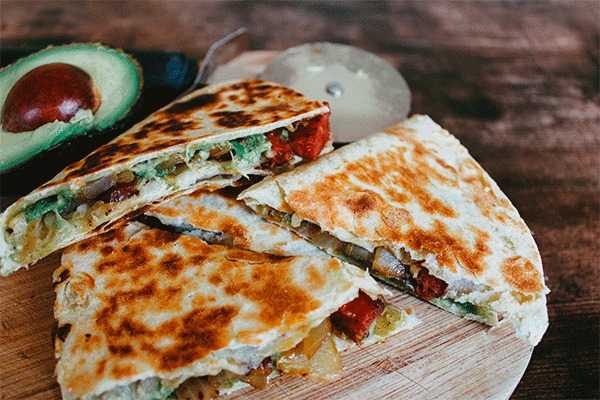 Australia – A burger with 'the lot'
This iconic burger doesn't really have any historical significance like the other dishes mentioned in this post, but it's a well-known Aussie favourite. The burger with the lot includes a meat patty, lettuce, tomato, cheese, bacon, sauce, and the secret (or not so secret but a must) is a slice of pineapple, beetroot (some would question these two additions – we're not here to judge!) and of course a fried egg. Make it vegan or vegetarian by subbing in a meat-free patty, removing the bacon and adding in some vegan cheese. Here is a burger with the lot recipe for you to impress your friends and family.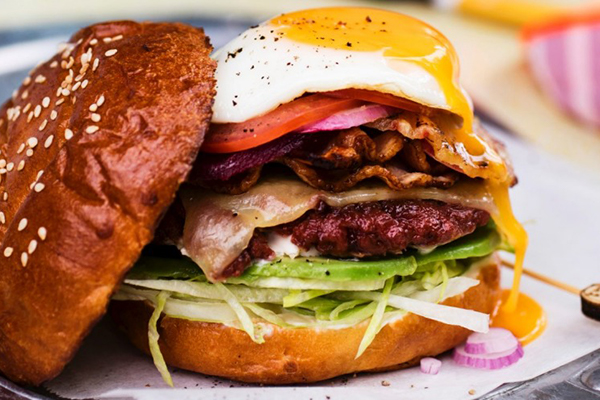 ---
Share your creations with us by tagging us on Instagram or Facebook or email ausmarketing@worldstrides.com.au