School trips to France
A storied history, world-class art and architecture, and mouth-watering culinary delights – there's much to see and experience in France. Full of picturesque cities, rivers, mountain ranges – France is home to world famous attractions from the Eiffel Tower in Paris, to the Palace of Versailles, to the legendary Mont-Saint-Michel island in Normandy.
Whether participating in an immersive language tour, learning tales from the battlefields of WW1 or taking in the sights of the many museums and galleries – students will be captivated by breathtaking landscapes, immersed in vibrant cultures and enchanted by tasty local delicacies.
This handy travel guide designed specifically for teachers and students will help you plan your trip and pack your bags for France.
France – Attractions
Eiffel Tower – Climb atop on of the most legendary structures in the world and enjoy breathtaking panoramic views of Paris at each of the 3 levels.
Louvre Museum – Explore one of the largest museums in the world. Home to over 35,000 artworks, the Louvre contains Egyptian antiques, crown jewels, ancient artefacts and artworks by renowned artists such as Leonardo Da Vinci, Botticelli and Michelangelo.
Notre Dame – Admire the stunning French Gothic architecture of the Notre Dame Cathedral, one of the most historic monuments of the Middle Ages.
WW1 Battlefields – Step back in time and immerse yourself in the history of the battle of WW1. Understand the more about the Liberte that thousands of men fought for as you visit memorials, cemeteries and the Somme battlefields.
Palace of Versailles – Enjoy a guided tour of the magnificent palace once home to Louis XIV. Bask in the opulence and grandeur of its stunning architecture, priceless art and antiques and the beautiful gardens.
Student packing list
The voltage in France is 230 Volt, you will need a type C adapter like the one below: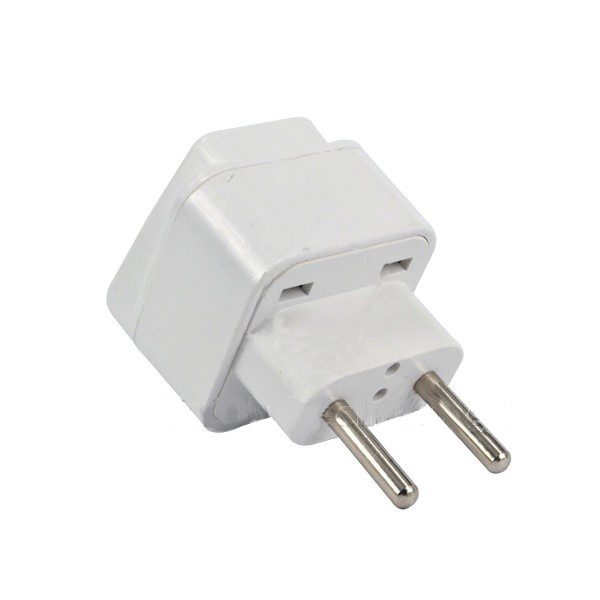 Comfortable shoes – You'll be spending plenty of time walking the streets of France, so comfortable shoes are a MUST!
Money belt – Unfortunately, Some major cities in Europe are known to have many pickpockets! Take extra precaution and keep your valuables safe by keeping them in a money belt worn underneath your clothes.
Other handy travel items:
Portable charger
Hanging toiletries bag including essential medicines
Tissues and sanitizer
Travel daypack
France travel tips
The currency of France is the Euro.
1 AUD = 0.61€.
FX calculation made on 31/07/2018
Average prices in France
Meal: 10-15€ ($16 – $24 AUD)
Regular Coffee: 2.50€ ($4 AUD)
One-way train ticket: 1.60€ ($2.60 AUD)
Mid-range Nike shoes: 80€ ($129 AUD)
The official language in France is French.
Useful French phrases for teachers and students
| | |
| --- | --- |
| English phrase | French translation |
| Hello, my name is Fred | Bonjour, Je m'appelle Fred |
| Please / Thank-you | S'il vous plaît/Merci |
| Excuse me | Excusez-moi |
| How much does this cost? | Combien ça coûte? |
| Do you speak English? | Parlez-vous anglais? |
Climate in France
France's climate is temperate, but divided into four distinct climatic areas. The oceanic climate of western France brings average rainfall spread over many days, and modest annual temperature variations (Brittany, Normandy, Atlantic Loire, Loire Valley). Central and eastern France's continental climate harbours cold winters and hot summers (the Champagne region, Burgundy, Alsace). The Mediterranean climate of south-eastern France is responsible for hot, dry summers, with rainfall from October to April (when the weather is damp but mild) and ample sunshine all year round (Provence, Côte d'Azur and Corsica). Above 600-800m altitudes, France's mountain climate brings heavy rainfall, and snow three to six months per year.
Time zone
France operates on Central European Time (GMT +1). However this changes to GMT +2 during Daylight Savings which run from dates between March-October each year.
Other travel tips for France
Manners are very important. Beginning a conversation without saying a quick Bonjour or Bonsoir (hello/good evening) is seen as very rude.
Don't use 'Tu' (you) to address another person unless they're familiar to you. Use 'Vous' as it's more formal.
It's typically cheaper to withdraw Euros from an ATM machine than it is to exchange currency before you leave.
France fun facts
With some 82 million visitors annually, France is by far the most popular tourist destination in the world!
French is an official language in many countries including: Canada, Switzerland, Congo and Luxembourg and was the official language of England for almost 300 years, from 1066 to 1362.
With its 12 standard times, France currently holds the world record for the country with the most time zones. The main part of the country, France métropolitaine, which lies in central Europe and includes the capital Paris, spans only 1 time zone. The remaining 11 time zones are added by France's dependencies (France d'Outre-Mer).
To find out more about our school trips to France, check out our language immersion 'Vive Le France' itinerary here.