Beyond the desert sun and sand, iconic geographical landscapes and rich indigenous culture and history, the Northern Territory can offer more to students than you realise! Did you know that a trip to the NT represents an opportunity for students and teachers to cover key learning areas, general capabilities, and cross-curriculum priorities?
Tourism NT works in conjunction with state operators to create unique learning adventures that offer excursions and programs aligned with the Australian curriculum. They also offer school groups $1500 in funding (Save & Learn) towards their tour price if you travel before 31 May 2023. This has increased from previous years by $500.
Plus, if you choose WorldStrides as your educational travel partner, there are even more savings to be had! Get an extra $50 off per student with our limited-time special offer when you deposit for your tour by 30 November 2022. T&Cs apply.
Best time to travel?
You might be wondering when the best time to travel is to take advantage of these incentives. We suggest booking your Northern Territory tour between March and May 2023 because…
This will give parents and students enough time to save and plan for their trip
Autumn weather (March-May) in the outback is considered the best time of year to visit as the days are warm and the nights cool with temperatures ranging from 12°C to 27°C. We usually recommend that our groups travel between March and November to avoid the extreme conditions of summer/the wet season
If you're able to travel before the Term 1 school holidays (peak period), you'll beat the crowds and more accommodation will be available at a cheaper rate
Top learning adventures students love!
Alice Springs
Walk in the footsteps of the ancient inhabitants of the Central Australian desert and learn about their lifestyle and culture at the Alice Springs Desert Park. The world-class nature park is a real-life lesson in ecology as students explore the desert flora and fauna, and wildlife.
MacDonnell Ranges
Spend the day exploring the West MacDonnell Ranges, from its breathtaking scenery and world-class hikes to swimming holes and natural treasures. Stop along the way to enjoy the sights of Standley Chasm, John Flynn's Grave, Simpson's Gap, Glen Helen Gorge and Ormiston Gorge.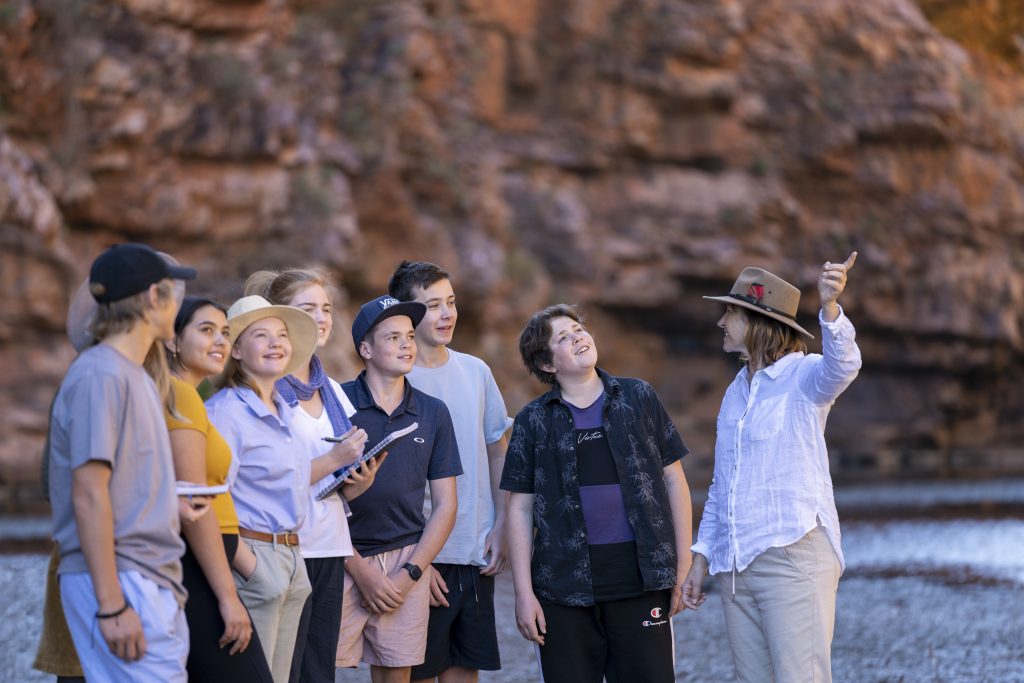 If you're planning on visiting in April, the annual festival 'Parrtjima – a festival in light' is a must! It's the only authentic Aboriginal light festival of its kind set against the majestic MacDonnell Ranges over 10 nights. Not only will you absorb the incredible sightseeing but enjoy a program packed full of live talks, events and music by local and national musicians.
Nitmiluk (Katherine) Gorge
Embark on a journey through the stunning gorges on the Nitmiluk Dreaming Cultural Cruise where the outback meets the tropics. Make your way through the gorges and discover Aboriginal rock art while learning the ancient Aboriginal culture of the area.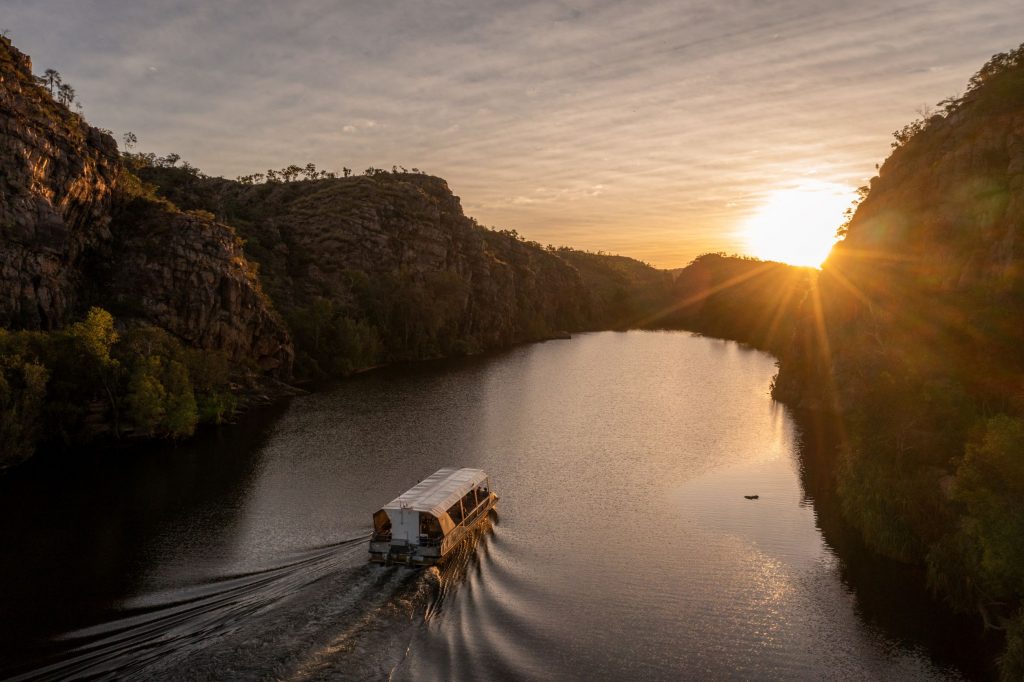 Kakadu National Park
This World Heritage Listed site covers 20,000 square kilometres and is rich in natural beauty and unique biodiversity, from waterfalls and tropical rainforests to wetlands, wildlife and ancient rock art. Take a sunrise or sunset cruise along the Yellow Water Billabong, home to crocodiles, wild horses, buffalo and a vast range of resident birdlife – you'll find yourself mesmerised as you spot these majestic wetland creatures in their natural environment.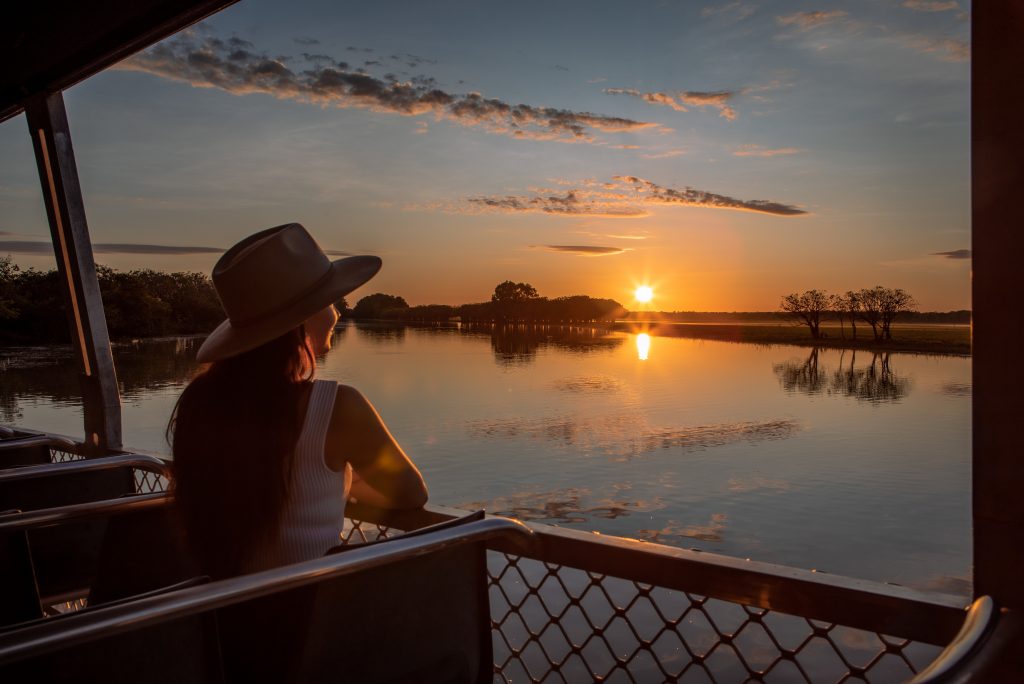 Watarrka National Park
Visit the Lilla Indigenous Community, located 15 minutes before Kings Canyon. Delve into an authentic Indigenous cultural experience and learn about seasonal bush tucker food and the importance of grinding stones, the types of plants that are used as bush medicine by the Luritja and Pertame (Southern Aranda) people and understand the history and meaning of Aboriginal dot paintings.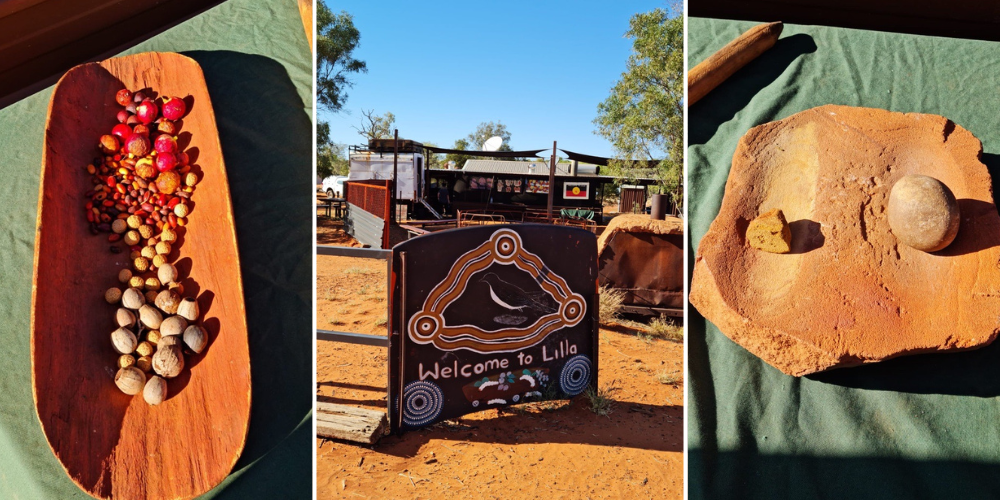 If you're travelling in April 2023, a new light exhibition is set to take over Kings Canyon Resort. After the success of international artist Bruce Munro's permanent Field of Light installation at Uluru, a second light exhibition is underway, Light Towers. The theme of the new installation is 'from sunrise to sunset' and is focused on the idea that sound and words collide. Make sure to speak with our program consultants and add this experience to your itinerary!
For more information on our Northern Territory tours and offers available, contact us today.