Germany, Prague and Vienna
Explore picturesque towns and big cities in this tour of Modern European history, music and art. Experience the contrast of old and new in Berlin and marvel at the baroque and rococo city centre of Dresden, infamous for controversial war crime during World War II. Marvel at the beauty and decadence of architectural styles in Prague before stepping into Vienna…
Request Info
Request Quote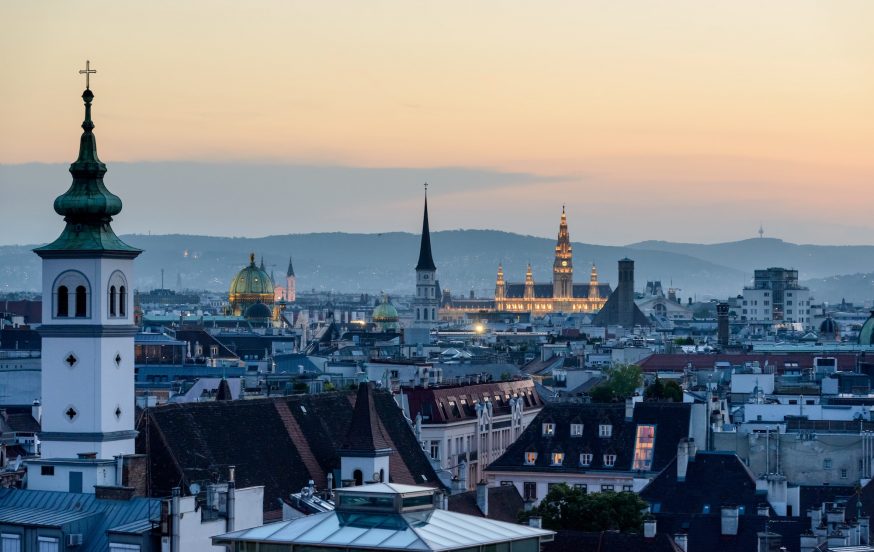 https://worldstrides.com.au/itineraries/germany-prague-and-vienna/
Germany, Prague and Vienna
Explore picturesque towns and big cities in this tour of Modern European history, music and art. Experience the contrast of old and new in Berlin and marvel at the baroque and rococo city centre of Dresden, infamous for controversial war crime during World War II. Marvel at the beauty and decadence of architectural styles in Prague before stepping into Vienna…
Request Info
Request Quote
Skip to Content

Optional tour extension
Your Adventure
Board your flight

Depart Australia and begin your journey to Berlin, Germany
Welcome to Berlin

Arrive in Berlin, meet your Tour Director, board your coach and check into your hotel.

Berlin city walk Start your journey through Berlin and see:
– Alexanderplatz
– Bebelplatz
– Hackesche Höfe
– Museum Island
– Nikolai Quarter
Guided sightseeing tour Discover one of the most historical cities in Germany, visiting:
– Brandenburg Gate
– Potsdamer Platz
– The remnants of the Berlin Wall
– Reichstag
– Checkpoint Charlie Museum
– Victory Column
Optional Potsdam excursion

Seen as Germany's 'Little Hollywood' from 1921 through WWII, Potsdam was the dazzling city of Frederick the Great, with countless marble fountains, exotic pavilions and Baroque castles (mostly built in the name of Frederick and Prussia's power).
Travel to Prague

Stop in Dresden on the way to Prague for a visit to the Baroque-style Zwinger Museum where Bavarian Princes once lived and collected master artworks.

Zwinger Museum visit

Explore the massive hallways and high-vaulted rooms of the grand Zwinger Palace in Dresden, which is considered a major landmark for German Baroque architecture. Housed inside this impressive building is a collection of artifacts documenting Dresden's cultural heritage, including old master paintings and old scientific instruments.
Prague guided sightseeing tour Explore Prague sites with visits to:
– Hradcany (Prague Castle)
– St. Vitus Cathedral
Your tour guide will lead you on a sightseeing adventure through the most prized city in Eastern Europe. As the former capital of the Holy Roman Empire, the city was built on beauty and decadence from a wide array of architectural styles (including Romanesque, Gothic, Renaissance, Baroque and Art Nouveau). See Hradcany (Prague Castle) where Europe's grand ruling family, the Habsburgs, lived and reigned. Wander into the castle's courtyard to view the richly textured flying buttresses of St. Vitus Cathedral, the sacred structure that took 600 years to complete.
Prague city walk Discover Prague on foot with visits to:
- Charles Bridge
- Mala Strana
- Old Town Square
- Jewish Quarter
Feel the inspiration for Franz Kafka's novels as you stroll the medieval streets of the Mala Strana (Little Quarter). Cross the Charles Bridge (lined with 30 lifelike baroque statues) to 13th-century Old Town to see the 15th-century astronomical clock in Market Square. Stop in Josefov (Jewish Quarter), to view Europe's oldest synagogue, dating from 1270.
Travel to Munich via Nuremberg
Nuremberg city walk

Nuremburg is perhaps best known for its role in German politics. The city was the site of many Nazi rallies from 1933 to 1938. Unfortunately, 90% of the city was destroyed in 1945. The Allies chose Nuremberg as the site of the war crimes tribunals because of the city's ties to Nazi power.

Bavarian Bratwurst dinner

Enjoy Bavarian - or Berlin-style sausage with traditional sides, made from veal and pork back bacon (Bavarian-style), or fried pork (Berlin style).
Munich guided sightseeing tour Discover the stunning sites of Munich including:
– Residenz
– Nymphenburg Palace Gardens visit
– Alte Pinakothek
– Deutsches Museum
– BMW Headquarters visit
– Olympic site of 1972
– Frauenkirche
– Neues Rathaus
– Marienplatz/ Glockenspiel
– Hofbräuhaus
Dachau Concentration Camp & Memorial visit

A grim glimpse into the past, Dachau was the first of Nazi Germany's camps and a model for the 3,000 work and concentration camps to come. A chilling memorial to the 206,000 prisoners who were interned in the camp from 1933 to 1945, the museum examines pre-1930 anti-Semitism, the rise of the Nazi party, and the documented lives of prisoners.
Neuschwanstein Castle guided visit

This elaborate castle was built atop a rock ledge over the Pöllat Gorge in the Bavarian Alps by order of Bavaria's King Ludwig II, referred to as "Mad Ludwig," whose favorite pastime was midnight sleigh rides through the countryside. This stronghold was the crowning jewel of the king's building spree across Bavaria and was the inspiration for Cinderella's castle in Disney World.

Oberammergau excursion

Visit a typical Bavarian dwellings in Oberammergau, a charming Alpine village. When the black plague spread through Europe, wiping out thousands of people, the residents of Oberammergau prayed for their village to be spared. Every 10 years during the summer days, the thankful town puts on the Passion Play, celebrating the blessing they were granted as they were passed over by the Black Death.
Travel to Vienna via Salzburg

On your way to Vienna stop in Salzburg to visit Mozart's birthplace.

Mozart's birthplace visit

Feel the rhythm of Salzburg's Old Town Square as you enter the unassuming yellow domicile at Getreidegasse 9. This is the birthplace of Wolfgang Amadeus Mozart. View an impressive collection of the young composer's first instruments and immerse yourself in the captivating saga of this prodigy's early life.
Vienna guided sightseeing tour Explore the Baroque streetscapes and imperial palaces of Vienna including:
– Schönbrunn Palace
– Parliament
– Ringstraße
– Hofburg
– Opera House
– St. Stephen's Cathedral

Wiener Schnitzel dinner
11
Depart Vienna (or extend to Budapest)
Travel to Budapest
Budapest city walk

Arrive in Budapest and check in to your hotel before setting off on a Tour Director led walking tour of the city. Full of spectacular architecture and sites and home to a number of UNESCO World Heritage Sites, your students will be spoilt for choice!
12
Tour extension: Budapest
Budapest guided sightseeing tour Today, continue exploring with your tour guide through the meandering streets of Budapest.
– Castle Hill
– Royal Palace
– Hungarian Parliament
– Matthias Church
– Fisherman's Bastion
13
Tour extension: Depart Budapest
Final farewell

Say goodbye to Budapest as you board your flight home to Australia.

Welcome home