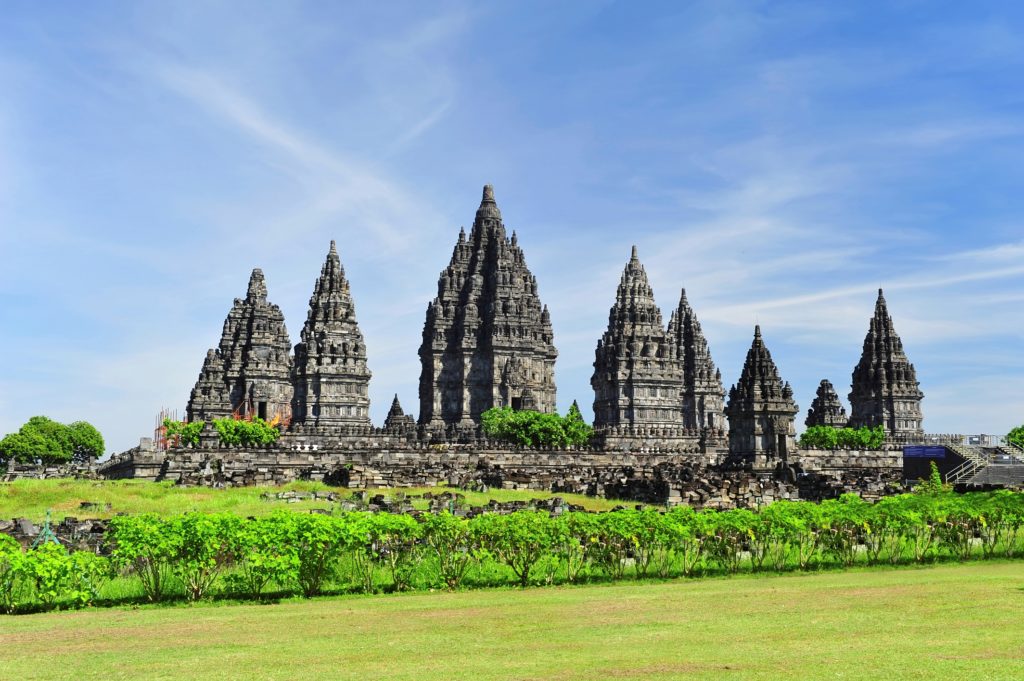 https://worldstrides.com.au/itineraries/best-of-indonesia/
Best of Indonesia
Embark on an educational adventure in Indonesia, where students can immerse themselves in authentic cultural experiences and find out why Indonesia – a place of many faces – is beloved the world over. Known for its vibrant culture, diverse natural landscapes and exotic wildlife, Indonesia is the perfect destination for students of language, art and humanities.
With bustling markets, tiny traditional villages, verdant rice terraces and opulent sultan's palaces, Bali and Java off€er rich cultural, historical and geographical experiences that will broaden students' horizons and encourage critical thinking. Students can immerse themselves in Balinese culture; enjoying cooking classes, dance performances, outdoor adventures and the opportunity to build on their language skills when they meet and interact with other students from local schools.
Skip to Content
Highlights
Prambanan Temple
Tanah Lot
Sultan's Palace
Puri Saren
Your Adventure, Day by Day
Day
1
Travel to Indonesia
Day
2
Magelang - Yogyakarta
On the move

Meet at the airport and board your flight to Yogyakarta.

Yogyakarta (often also called Jogja, Yogya or Jogja) is located in middle of Java Island in Indonesia. A thousand years ago, Yogyakarta was the center of ancient Mataram Kingdom which was prosperous and highly civilized. This kingdom built many impressive temples including the largest Buddhist temple in the world.

Borobudur Temple

Enjoy the beautiful sunrise over Borobudur Temple.

Learn how to play the Gamelan, a traditional Balinese instrument and take an Andong ride to explore the village around Borobudur.
Language Lesson

This morning attend your first 3-hour Bahasa Indonesian language lesson.

Beringharjo

After your class enjoy wandering around the Beringharjo traditional market with your teacher.

Wander

After lunch, visit the suburb of Kota Gede which is known for its thriving silver industry and wander around the silver shops and see the silversmith at work. Afterwards, see how Batik painting is also made, Yogyakarta area is famous for Batik painting.

Prambanan

This afternoon visit Prambanan Temple, an extraordinarily beautiful building constructed in the tenth century during the reigns of two kings. Soaring up to 47 meters, this temple fulfilled the desire of the founders to show Hindu triumph in Java Island.

Evening activities

Attend the Ramayan dance performance held amongst the Prambanan temples in an open air theatre.
Language Lesson

This morning attend your second 3-hour Bahasa Indonesian language lesson.

Sultan's Palace

Afterwards transfer by coach to the Sultan's Palace and Taman Sari (Water Castle). For the people of Yogyakarta, the Sultan's Palace has been at the heart of civic life since the mid 1700's.
School visit

Today you can practice your Indonesian with a visit a local school where you can meet and interact with the local school children.

Afternoon activities

After lunch the afternoon is free for teacher organized activities. You may want to visit the Gembira Loka Zoo with your teacher where you can see the giant lizard, the Komodo dragon.
Day
6
Yogyakarta – Denpasar – Ubud
On the move

This morning board your coach to Yogyakarta airport for your flight to Denpasar, Indonesia. Upon arrival in Denpasar transfer to Ubud where you check in to your hotel for your overnight stay. Ubud is located amongst rice paddies and is Bali's major arts and culture centre. This afternoon you are free to enjoy the rest of the day with supervised teacher activities.
Cooking class

This morning take part in an authentic Balinese cooking class. The culinary adventure begins with a guided visit to the Ubud markets to gain a better understanding of the various local vegetables, and the herbs and spices used to create Balinese dishes, and ends with a delicious self-prepared lunch!

Puri Salen Palace

After lunch visit the former palace of an Ubud King. The palace became a cultural centre for art when a traditional art market was established on its doorstep, helping to boost the local economy.
On the move

Travel to Sanur via private coach, stopping en-route to see the stunning Tegalalang Rice Terraces.

Sanur

On arrival in Sanur, there is free time for teacher supervised sightseeing and activities. Perhaps stroll along Sanur's 4km beachfront taking in elegant old villas, local fishing boats, the odd cow grazing in the luscious garden of a local resort.

Tanah Lot

Later in the afternoon, visit the Tanah Lot Temple. Famous for its sunset views, it was built in the 16th century on a rocky islet 200 metres off shore.
Pura Luhur

After breakfast at your hotel, visit the Pura Luhur Temple which offers spectacular views of the Indian Ocean.

Evening activities

Enjoy a Kecak dance performance, featuring the love story of Prince Rama and Princess Shinta.
Waterbom

Today head to Waterbom Park, a fun-filled water park home to 16 waterslides!
Bali Museum

After breakfast visit the Bali Museum. Originally established in 1910 by a Dutch official who had the idea to collect and preserve Balinese antiquities and cultural objects by creating an ethnographic museum.

Afternoon activities

Afterwards visit the main Denpasar Market. This traditional market is opposite the village temple. You may also want to visit Kumbasari market across the Badung River where the local Balinese buy the traditional ceremony items.
Farewell Enjoy some free time for last minute shopping and practising Bahasa Indonesian before bidding Bali a fond Selamat tinggal and transferring by private coach to the Denpasar International Airport for the return flight to Australia.