Last year saw hundreds of postponed trips to Canberra and thousands of disappointed students unable to discover our nation's capital due to COVID-19 – but this year is looking up! With the recent announcement from the Australian Government to increase the Parliament and Civics Education Rebate (PACER) by 50%, more students will have the chance to travel to Canberra as part of their civics and citizenship education – and we are delighted!
On a tour to Canberra, students develop an understanding of Australia's origins, political history and layers of government and come away with amazing memories and life-long impressions of Australia's past and present. PACER gives more students from all over Australia the chance to experience it for themselves.
Minister for Regional Education Andrew Gee said that in 2019, more than 114,000 PACER students from about 2000 schools throughout Australia visited Canberra.
"Last year, COVID-19 restrictions meant that only about 8,800 school students from about 140 schools were able to travel to Canberra with the support of PACER," Mr Gee said.
"Australia's parliamentary system of government, our electoral processes and democratic history have an important place in the curriculum, and the PACER program is a great support for school students from regional and rural communities to come to Canberra and experience this first-hand."
PACER rebate changes (per student)
| | | | |
| --- | --- | --- | --- |
| Zone | Distance from Canberra | Current rebate | New 2021 rebate |
| 1 | 150- 499 kms | $20 | $30 |
| 2 | 500 – 999 kms | $30 | $45 |
| 3 | 1,000 – 1,999 kms | $60 | $90 |
| 4 | 1,500 – 1,999 kms | $100 | $150 |
| 5 | 2,000 – 2,499 kms | $150 | $225 |
| 6 | 2,500 – 2,999 kms | $200 | $300 |
| 7 | 3,000 – 3,999 kms | $310 | $465 |
| 8 | 4,000 kms and over | $340 | $510 |
PACER zones map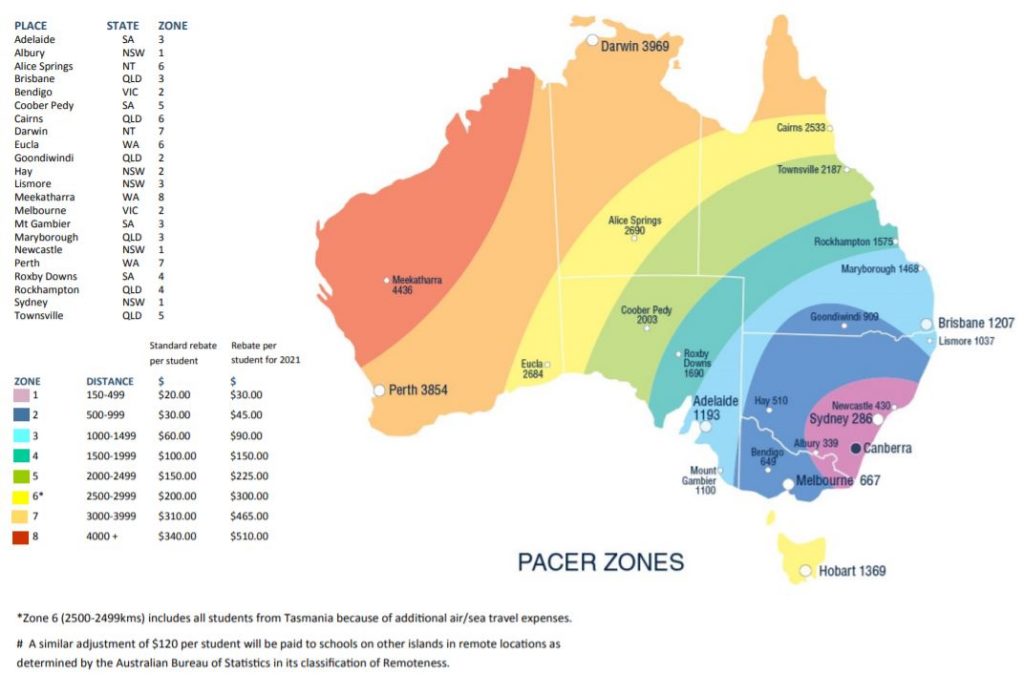 When you book a Canberra tour with us, we will assist you to complete the PACER application. To discuss the recent changes or the possibility of a COVID-safe Canberra tour, please contact us at info@worldstrides.com.au or 1800 331 050
PACER website: www.pacer.org.au