To celebrate this year's theme for Science Week, Food: Different by Design, we've created resources for the classroom (or your virtual classroom!) to educate and inspire student's thinking and encourage them to design a range of food solutions. From growing their own food from kitchen scraps to examining some of the innovations that are happening in the food industry today, these activities will keep young minds buzzing all week!
Growth Happens Worksheet
Best for: Secondary students
⏳: 30-60 minutes, plus time for plants to grow
Learn how to start Kitchen Scrap Gardening and examine natural growth in unusual places! The world around us has changed. Our lives may appear to have slowed, but for mother nature, this is her time to flourish. We see plants popping up in unusual places and animals wandering into new spaces. Wind patterns are changing and the hole in the ozone layer has even started to repair itself. This level of growth is a great reminder that, despite all that's happening in the world, life (all life, not just human life) goes on. These activities are designed so that you can examine the growth that continues to occur, even in the most improbable spaces.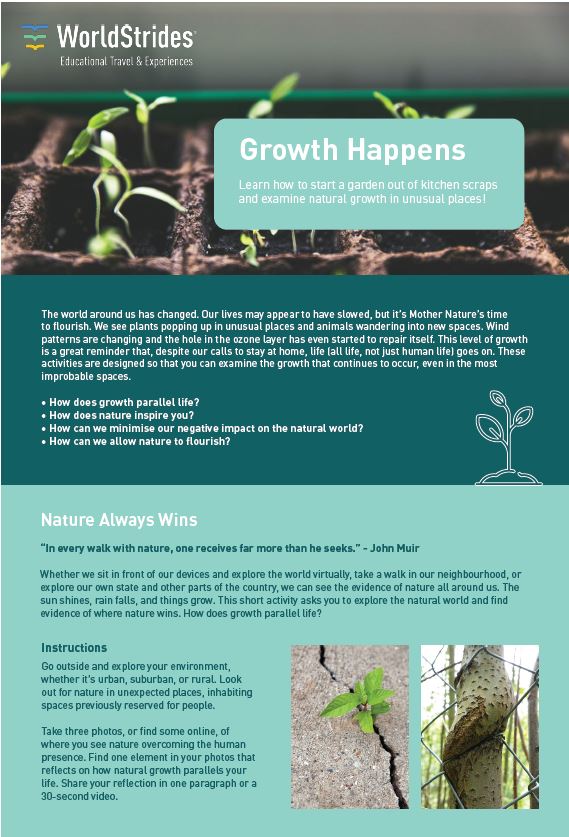 Recipe Resourcefulness
Best for: Secondary students
⏳: 60-90 minutes
Science works hard behind the scenes of nearly everything we do in our lives, including how we get our food and how we cook. This week we will consider how much water is used in food production, whip up something delicious in the kitchen using what we have, and see how we can be resourceful all throughout the house! Consider: How can you maintain the integrity of a recipe if you have missing ingredients? How does our food consumption and other daily activities affect our water footprint?
Foodmile Calculations
Best for: Secondary students
⏳: 30-60 minutes
When we calculate the cost of a meal, we often do not take into consideration the ecological costs associated with the production of each commodity. This worksheet gives students the tools to calculate the energy used to produce it and the distance each ingredient has travelled before it lands on our plates.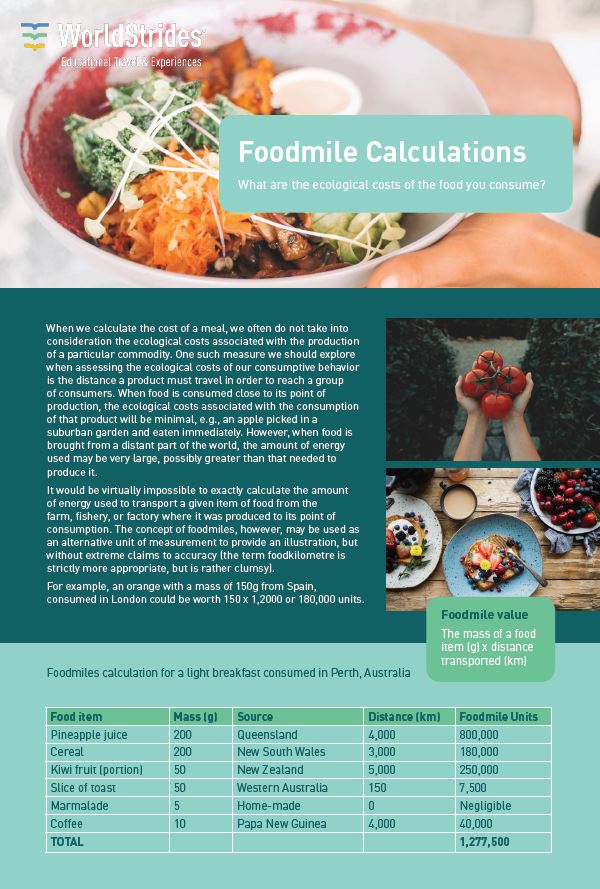 Answering our questions? Using our strategies? Share them with us at ausmarketing@worldstrides.com.au