In early April 2023, a group of enthusiastic teachers embarked on our first-ever WorldStrides Soccer Teacher Training Trip to the United Kingdom. Our group were immersed in the heart of British soccer culture on this 6-day adventure, soaking up knowledge from soccer professionals and coaches, participating in educational activities and learning firsthand what our students experience on a trip with WorldStrides. Read the full day-by-day itinerary here and video to learn about our groups' adventures across the UK.
Nikki Little is the Head of Co-Curriculum at Overnewtown College in Victoria and joined the group on our Training Trip around the UK. Nikki shares her thoughts on the third day of activities in Liverpool.
Day 3 – Liverpool
by Nikki Little
"Teachers are reminded that we should never admit to having 'favourites.' And I imagine it should be the same for WorldStrides itineraries…. because each day is just as spectacular as the one before and the one coming soon. But I think we'd be kidding ourselves if THIS day wasn't tagged as an itinerary 'favourite'…. and boy did it live up to expectation.
It was Easter Sunday. My eggs were not delivered by a bunny but instead were scrambled on sourdough toast. They were delicious and offered great energy as we boarded our coach for the majestic Etihad Stadium, home of Manchester City. A proud tour guide gave us the inner sanctum tour of this immaculate precinct, which was so opulent in design and scope that its nickname of 'the Disneyland of football' was easily believed. We tunnelled through modern corridors adorned with punchy motivational quotes, witnessed the contrast of the home and away dressing rooms, and 'met' super coach Pep Guardiola. Well not exactly… but our photos with 'him' would fool even the biggest City fan. Our own VIPs re-enacted how City players walk past the affluent fans on match day, from chandeliered dining spaces to the most spectacularly manicured pitch you've ever seen! The guide quickly learned that we were Aussies of calibre, so we enjoyed a champagne toast in stadium seating which was literally fit for a Queen. A buggy ride fast-tracked our experience past a second state-of-the-art stadium, training pitches galore and a carpark full of luxury cars, owned by the first-team players. With a distant wave to Pep and the team, who were training nearby, we said 'see you next time' to the wealthy giants of the EPL.
A brunch buffet at the Sandon, a traditional pub that hosts pre-match experiences for 'The Reds' fans on match days was our next stop. With our bellies filled, our animated group walked arm in arm to Anfield, which visually, was a stark contrast to the shiny Etihad but beautiful in its own way. If you hadn't guessed it, we were approaching the 'itinerary favourite' that we had all been waiting for. Liverpool v Arsenal at Anfield. Match of the Round. Match of our lifetime… well so far anyway… we do have youth on our side, and we plan on coming back! At the stadium, there is so much to see. The huddled group of family and friends of the Hillsborough tragedy victims with enormous flags waving, football fans gathering, singing, and dancing to live music and friendly local police happy to chat with the inquisitive Aussies. Hunting for merchandise became our mission, as the fans new and old were keen to show our colours. No tourist trap half/half scarves in sight today… we were Liverpool!
Upon entering the sell-out stadium, we squeezed into our seats and sat shoulder to shoulder. We observed a spine-tingling minute silence as a grandstand raised plaques in unison to form the number 97 surrounded by flames to commemorate Liverpool's darkest day in football. It was a breathtaking and powerful tribute to the lives that were lost so tragically. A heartened rendition of 'you'll never walk alone' gave us the feeling that this community was letting us in… showing us their history and their humanity. The match itself exceeded expectations with top-of-the-table Arsenal quick off the mark, scoring two goals in the first half. Liverpool didn't give up and had chances to pinch the win… I bet Saleh will still be ruing THAT penalty. The score at full-time was 2-2… but it felt like a win.
With momentum buzzing, we returned to Manchester for a delicious Sunday Roast at Gusto, a luxe restaurant with a private dining room. Linking Spotify to the speakers, we built a group playlist so we could sing, and upper-body dance our way through the courses. We reflected on an experience that transcended football. Today we learned, we lived, and we laughed till our ribs hurt. And whether you opted for the comfort of bed or for Manchester's best dance floors to end this 'favourite' day, our bonds were strong, and our hearts were full."
Head this way and learn all about day 4 in Birmingham…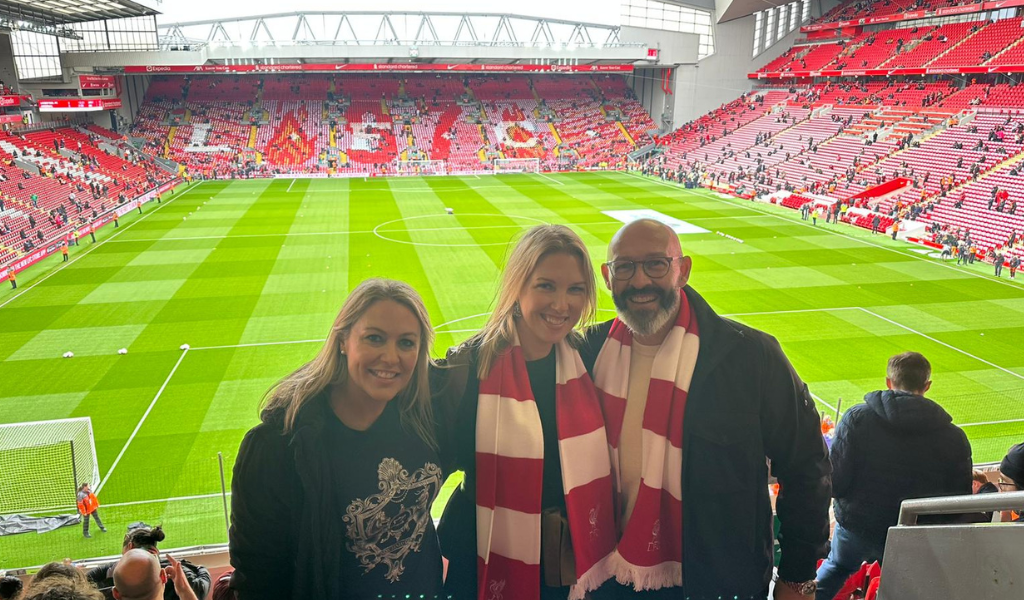 WorldStrides offers FREE Teacher Training Trips when you book your first tour with us. You will have the opportunity to meet other teachers who love to travel, get insider tips from the WorldStrides team and hear from a veteran teacher on leading student tours. From experiencing on-tour logistics first-hand to learning about our robust safety and security measures, you'll come away with a greater understanding of what to expect on your tour. If you'd like to know more about our free training trips, please complete this form, or call 1800 331 050 or email info@worldstrides.com.au