An educational travel program in Vietnam offers students a captivating mix of lively culture, the history of a war-torn past and spectacular natural beauty. Students will experience the thrill of pulsating cities and the serene majesty of picturesque landscapes all within the same week. From narrow alleyways teeming with rickshaws to vivid green rice paddies that line the countryside hills, there's never a dull moment in Vietnam.
To complement an exciting range of cultural activities, students will also experience the best of an epic cuisine that has won the heart of the western world. Vietnamese food has a certain charm and cultural importance which students will experience firsthand.
This handy travel guide designed specifically for teachers and students will help you plan your trip and pack your bags for Vietnam.
Vietnam – events and attractions
Cu Chi Underground Tunnels, Ho Chi Minh – Gain an insight into the Vietnam War as you explore the original tunnels used by Viet Cong Guerrillas
Long Tan, South Vietnam – Visit a former Australian troop task force base and uncover the story of a gruelling battle Australia fought against the Viet Cong in 1966
Mekong Delta Floating Markets, Ho Chi Minh – Take to the water be immersed in a lively and colourful floating marketplace as you learn how the locals trade fish, fruit and traditional treats on the Mekong Delta
Ha Long Bay, Quang Ninh Province – Arguably the most popular travel destination in Vietnam, Ha Long Bay will leave you wonderstruck as you explore Thien Cung Grotto, Dau Go Cave and other locations amongst the towering limestone pillars of this UNESCO World Heritage listed area
Water Puppet Performance, Hanoi – Experience a cultural highlight of Vietnam, the world-famous water puppet performances, an art form dating back to the 11th century
Student packing list
The voltage in Vietnam in 220 Volt, you will need a type A adapter like the one below: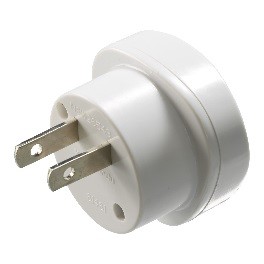 Breathable clothes – You'll thank yourself for packing cotton shirts and shorts that you won't overheat in as you adventure throughout the day
Sunscreen and hat – With the possibility of extended periods of time in the hot sun, avoid sunburn with some high SPF sunscreen and a wide-brim hat
Durable shoes – If you're planning on doing a lot of trekking, be sure to pack shoes that will keep your feet comfortable, dry and blister free
Bug spray – Embark on outdoor adventures with peace of mind that you won't be bothered by mosquitoes
Other handy travel items:
Portable charger
Hanging toiletries bag including essential medicines
Tissues and sanitizer
Travel daypack
Vietnam travel tips
The currency of Vietnam is the Dong.
1 AUD = 17, 224 VND
FX calculation made on 31/07/2018
Average prices Vietnam
Meal: 40,000 D or $2.4 AUD
Regular Coffee: 44, 913 D or $2.65 AUD
One-way train ticket: 6,000 D or $.35 AUD
Mid-range Nike shoes: 1,830,000 D or $107 AUD
The official language in Vietnam is Vietnamese.
Useful Vietnamese phrases for teachers and students
| | |
| --- | --- |
| English phrase | Vietnamese translation |
| Hello, my name is Fred | Xin chao, toi ten la Fred |
| Please / Thank-you | Xin vui long / Cam on |
| Excuse me | Xin loi |
| How much does this cost? | Bao nhieu chi phi nay? |
| Do you speak English? | Um noy tyen Ahn come? |
Climate in Vietnam
Vietnam's climate can be divided into three different zones – North Vietnam, Central Vietnam and South Vietnam. The climate in North Vietnam is humid and subtropical, while South Vietnam enjoys a tropical climate all year round, with the central region lying somewhere in-between.
Time zone
Vietnam operates on the Indochina time zone (GMT +7). There is no Daylight Savings in Vietnam.
Other travel tips for Vietnam
Avoid drinking tap water. Buy bottled water, it's cheap and better to be safe than sorry
Brush up on your haggling skills, as a westerner you'll no doubt at first be quoted exorbitant prices
Avoid any taxi lines other than trusted ones such as Mai Linh or Vinasun, and always use the meter
Vietnam fun fact
40% of Vietnamese people have the surname Nguyen.