Recently a group of students from Haileybury embarked on a language tour of Japan, where they enjoyed an all-round sensorial experience as they made their way from the bright lights of Tokyo, to the historic ruins of Hiroshima to the sacred shrines and temples of Kyoto…
The 2016 Japan trip was jam-packed with wonderful memories, a trip that none of us would ever forget. We ventured to the many historical temples of Kyoto, bought good luck amulets and washed our hands in temple water. We also went to Arashiyama to admire the grand bamboo forest and to visit the cute monkeys at the top of the mountain. We were very lucky to have a wonderful tour guide, Miki, who gave us many interesting insights into Japan's history and culture.
Next we went to Hiroshima via the Shinkansen, the fastest train I had ever been on! We visited memorial sites and museums, and also visited the dome that survived the nuclear bomb. That night some of us also watched our very first baseball game, Hiroshima Carps VS Hanshin Tigers, but halfway through the game we had another first experience: being caught in torrential rain. It wasn't a lovely experience, but it sure was memorable!
The next morning, we took a ferry from Hiroshima to Miyajima Island, just in time to participate in the 'manju' cake making class. Momiji manju is a local delicacy at Miyajima Island, it's a little cake shaped as a maple leaf with usually a red bean paste inside. We then spent the rest of our day wandering around the island and petting the wild deer.
We spent our last 4 days in the bustling city of Tokyo, the biggest city in the world. In this short period of time, we got to visit Tokyo Tower, shop (a little too much) at Harajuku Street, learnt and mastered the art of sushi, crossed the largest road intersection – Shibuya Crossing, visited Mt. Fuji and Hakone and spent our last day at Disneyland, the happiest place on earth!
Japan definitely exceeded our expectations and was an experience like no other, if given the opportunity, we would do it all again!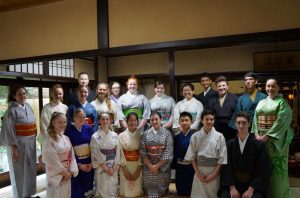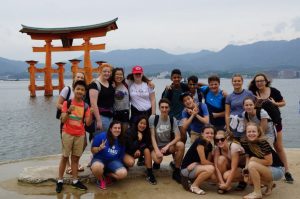 Wenn Yann Leong and Pippi Clarke
Students