Wonders await in Sydney and Canberra
ACPPA approved Sydney and Canberra school tour 6 days from $860 per person WorldStrides partners with the Australian Catholic Primary Principals Association to bring educational travel opportunities to Catholic Primary Schools. Aligned with the curriculum, our tours showcase the history and heritage of the Australian Catholic community through inspiring and educational experiences. Designed in consultation with ACPPA, this tour is…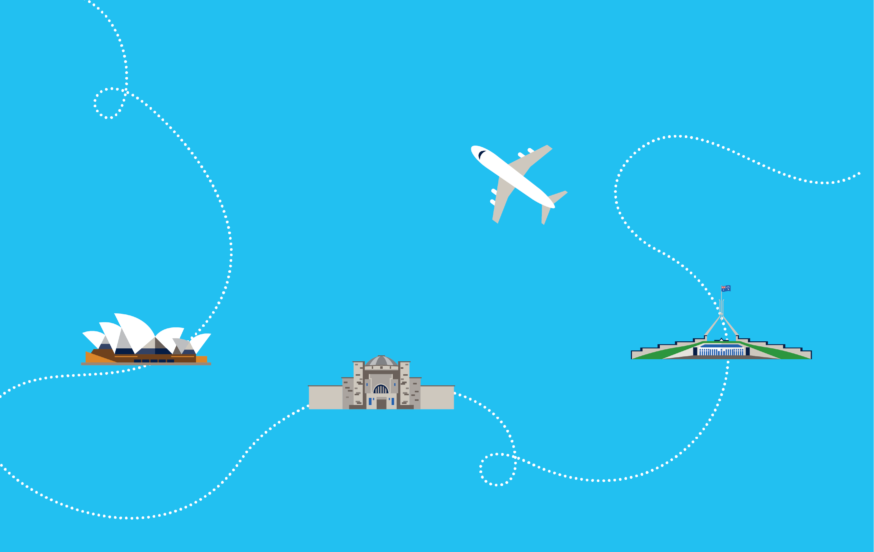 https://worldstrides.com.au/acppa-members/
Wonders await in Sydney and Canberra
ACPPA approved Sydney and Canberra school tour 6 days from $860 per person WorldStrides partners with the Australian Catholic Primary Principals Association to bring educational travel opportunities to Catholic Primary Schools. Aligned with the curriculum, our tours showcase the history and heritage of the Australian Catholic community through inspiring and educational experiences. Designed in consultation with ACPPA, this tour is…
Wonders await in Sydney and Canberra
ACPPA approved Sydney and Canberra school tour


6 days from $860 per person
WorldStrides partners with the Australian Catholic Primary Principals Association to bring educational travel opportunities to Catholic Primary Schools. Aligned with the curriculum, our tours showcase the history and heritage of the Australian Catholic community through inspiring and educational experiences.
Designed in consultation with ACPPA, this tour is full of immersive religious education, historical events and landmarks and invigorating outdoor activities.
Let's get started
To start planning your next adventure or for more information on this tour, complete the form below.
Sydney and Canberra Highlights Tour 
Learning areas: Religious Education | Civics & Citizenship | History | STEM | Physical Education
Day 1: Travel to Sydney
Sydney Opera House
Enjoy a guided tour of Sydney Opera House as you journey through every aspect of the buildings 14-year creation and 58-year history. Cap off the day with an exciting adventure to explore Circular Quay and Royal Botanical Gardens.
Day 2: Sydney
St Mary's Cathedral
Embark on a self-guided tour of St Mary's Cathedral, the beacon of hope for those who share the Catholic faith and the spiritual home of Sydney's Catholic community. Explore The Crypt, a breathtaking cavern of striking architecture and ornate design.
St Mary's Cathedral – The Rocks
Explore this historical precinct and learn about the lifestyle, social history and heritage of Sydney on a 1.5hr educational walking tour.
Taronga Zoo
Journey through Sydney's iconic Taronga Zoo on a self-guided tour and enjoy an educational workshop with live animals.
Day 3: Sydney – Canberra
Mary Mackillop Place
Learn about the story of Mary McKillop, Fr Julian Tenison Woods and the Sisters of St Joseph.
Day 4: Canberra
Parliament House
Visit the location of our nation's government and see first-hand how the electoral system works in an educational workshop and a guided tour.
Mt Ainslie Lookout
Take in a panoramic view of Lake Burley Griffin and many of Canberra's national attractions.
Australian War Memorial
Visit the Hall of Memory, Roll of Honour, Aeroplane Hall, and the War Museum.
Royal Australian Mint
Discover how coins are made and have the opportunity to participate in the 'make your own coin' experience.
Day 5: Canberra
Australian Institute of Sport
Enjoy a guided tour of AIS's world-class sports training and competition facility.
Electoral Education Centre
Get first-hand knowledge about our electoral system and how it operates.
Museum of Australian Democracy at Old Parliament House
Learn about the development and practice of democracy in Australia.
Questacon
Free-fall down a six-metre slide, freeze your own shadow, experience an earthquake or challenge a robot to a game of air hockey.
Zone-bowling
End the day on a high with a fun game of bowling!
Day 6 Canberra – Home
Return home.