Performing Arts: Germany & Switzerland
Germany has long been a country of fascination, though the country itself is a fairly recent creation in Europe. From the noble heights of the Holy Roman Empire to the lows of WWII and the Nazi regime, the industrious people of Germany have emerged stronger than ever. This is a land that produced religious revolution, scientific and technological breakthroughs, and…
Request Info
Request Quote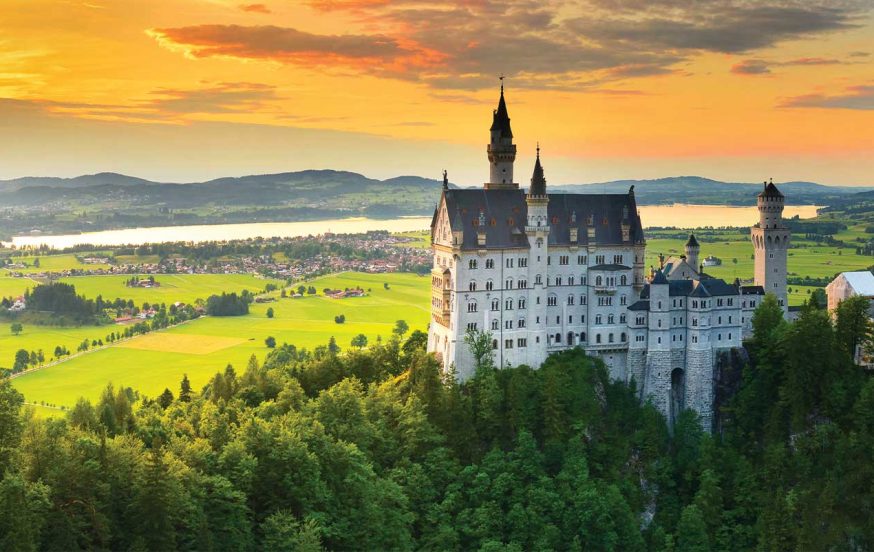 https://worldstrides.com.au/itineraries/performing-arts-germany-switzerland/
Performing Arts: Germany & Switzerland
Germany has long been a country of fascination, though the country itself is a fairly recent creation in Europe. From the noble heights of the Holy Roman Empire to the lows of WWII and the Nazi regime, the industrious people of Germany have emerged stronger than ever. This is a land that produced religious revolution, scientific and technological breakthroughs, and…
Request Info
Request Quote
Skip to Content
Your Adventure
Board your flight

Relax and enjoy your journey to Munich, Germany.
Meet your Tour Director

Arrive in Munich and meet your Tour Director, who will accompany you for the duration of your trip.

Munich city walk of the Altstadt (Old Town)

Discover the Altstadt on a city walk, taking in Karlstor, Altes Rathaus, Peterskirche, Frauenkirche, Marienplatz, and the Beer Halls.
Neuschwanstein Castle visit

This elaborate castle was built atop a rock ledge over the Pöllat Gorge in the Bavarian Alps by order of Bavaria's King Ludwig II, referred to as "Mad Ludwig," whose favorite pastime was midnight sleigh rides through the countryside. This stronghold was the crowning jewel of the king's building spree across Bavaria and was the inspiration for Cinderella's castle in Disney World. Begun in 1869 and left unfinished at Ludwig's death in 1886, this lavish palace is an eccentric reconstruction of a medieval castle, and it boasts major technological and architectural achievements for the time, including running water, flushing toilets, a hot water system for the kitchen, and bathrooms with warm-air heating systems.

Garmisch-Partenkirchen village visit

Spend time in the twin villages of Garmisch and Partenkirchen, which make up Germany's top alpine resort. In spite of their urban flair, the towns maintain the charm of an ancient village, often with country folk in traditional dress. The towns and their environs offer some of the most panoramic views in Bavaria.

Munich performance

Potential venues include (but not limited to): Neuschwanstein Castle, Stifspfarrkirche St. Phillip and Jakob (in Altotting, a town east of Munich), or an exchange with a local school, university or community group. Additional options such as Neues Schloss Schleissheum are available at an additional cost.
Deutsches Museum visit

Learn about the history and progress of science and technology through the state-of-the-art interactive exhibits in the world's largest science museum including the Mathematics Gallery.

Travel to Salzburg via Herrenchiemsee
Herrenchiemsee New Palace visit

Modelled on Versailles, this palace was built as a "Temple of Fame" for King Louis XIV of France, whom the Bavarian monarch, King Ludwig II fervently admired. The highlights of palace include the State Staircase, the State Bedroom and the Great Hall of Mirrors. The king's own rooms were in the intimate Small Apartment, designed in the French rococo style.
Salzburg Cathedral visit

Explore Salzburger Dom (Salzburg Cathedral), Which is world renowned for its 4,000-pipe organ. The cathedral has been hailed by some critics as the 'most perfect' Renaissance building in the Germanic countries. It features a marble facade and symmetrical twin towers.

Salzburg city walk Enjoy a tour director-led walking tour through the Old City, a maze of meandering lanes, curious steeples, cobbled streets and spacious squares. Here we will view Mozart's Birthplace, the Old Square, the Cathedral, and the Residenz Palace. A highlight of our walk will be the Glockenspiel, an early 18th-century carillon with 35 bells. We can hear the bells from any one of the cafes lining the edges of the Mozartplatz, while sipping our favorite coffee or drink.
Glockenspeil The Glockenspiel is an early 18th-century carillon with 35 bells that can be heard around the city.
Free time on Getreidegaßet

Spend free time on Salzburg's most famous street, the Getreidegaße, which is lined with small shops, interesting houses and wrought-iron signs.

Salzburg performance

Potential venues include (but not limited to): Mozarthaus, the Silent Night Chapel where the song "Silent Night" was written (for small choirs), Kollegienkirche, an informal lunchtime performance at Salzburg Cathedral or an exchange with a local school, university or community group. Additional options such as the Mozarteum or Orchestrahaus can be arranged for additional cost.
Travel to Lucerne via Innsbruck
Innsbruck Old Quarter city walk

Take an Old Quarter walking tour through Innsbruck. Highlights of our walk will include Maria-Theresien-Strasse, the Triumphal Arch, St. Anna's Column, the 19th Century Rathaus, and Herzog-Friedrich-Strasse, featuring arcaded and well-maintained burghers' houses. We will also view the Golden Roof, Innsbruck's greatest tourist attraction.
Chapel Bridge
Mt. Pilatus excursion

Scale snow-capped Mount Pilatus to enjoy a bird's eye view of Lucerne's skyline and Alpine panoramas galore. In the summer (May to mid-Nov.), you'll take a boat across the Alpnacher See and then ascend the slope on the world's steepest cog railway; the rest of the year, you'll ascend by cable car. Once atop the mountain, it's your chance to snap some of the most frame-worthy photos -- keep your fingers crossed for a clear day, when mountain-top views span as far as 200 miles.

Travel to Interlaken
Hoheweg Promenade

We will spend the day surrounded by splendid mountain scenery. Our touring begins in the Höheweg Promenade, which covers 35 acres in the middle of town between the two train stations. Once the property of Augustinian monks, it was acquired in the 1800s by hotel keepers who turned it into a park.

Interlaken city walk
Unterseen visit

Cross over the Aare River to Unterseen, built in 1280 by Berthold von Eschenbach, to visit the Parish Church, with it's late-Gothic tower dating from 1471.

Interlaken choir performance

Choirs often enjoy performances at churches (some have restricted sacred repertoire and others allow secular,) temples, museums and cultural centers, significant historic sights or exchange concerts with local schools, universities or community groups. Participating in a choral or cultural festival can also be a rewarding experience. For all performances we work closely with each group to ensure the perfect venue to meet their vision. Speak with your Worldstrides representative about what options would be best for your group.
9
Return home or extend your trip
Travel to Zurich
Return home

Bid farewell to Europe and begin your journey home.

Optional extension

If you are not ready to leave Europe just yet, speak to one of our specialists about extending your trip.